Un pizzico di mistero, amore e suspense.
♦ Newton Compton Editori (10 dicembre 2017) – link amazon♦
La serie Rock Chick, le cui storie si svolgono a Denver, è composta da otto romanzi autoconclusivi.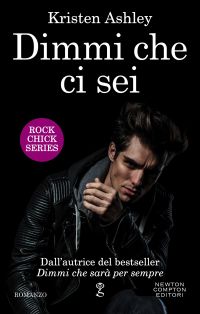 Jet McAlister ha un segreto che non è disposta a condividere con nessuno. Nonostante le sue stranezze, Eddie Chavez la trova mostruosamente sexy (per la verità anche lui non è niente male), ma Jet ha davvero troppi problemi per rendersi conto del suo interesse.
Quando, però, Jet si ritrova in un vicolo con un coltello puntato alla gola dopo una notte passata in uno strip club, Eddie perde la pazienza: perché diavolo non si lascia aiutare? Lui è un poliziotto, potrebbe rendersi utile se solo la ragazza si decidesse a parlare. Ma Jet è testarda, senza contare che di norma è lei quella che risolve i problemi agli altri, e non viceversa.
Ed è proprio per tirare fuori dai guai un'altra persona che Jet è finita in una situazione estremamente pericolosa. Tanto che se Eddie provasse a salvarla, non farebbe altro che mettere in gioco la vita della donna che ama.
#0.5 Rock Chick Reawakening
#1 Rock Chick, Dimmi che sarà per sempre
#2 Rock Chick Rescue, Dimmi che ci sei
#3 Rock Chick Redemption
#4 Rock Chick Renegade
#5 Revenge of the Chick
#6 Rock Chick Reckoning
#7 Rock Chick Regret
#8 Rock Chick Revolution
#8.5 Rock Chick Redux
Kristen Ashley è cresciuta a Brownsburg, Indiana, e ha vissuto a Denver, Colorado, e nel Sudovest dell'Inghilterra. Per questo ha la fortuna di avere amici e parenti sparsi in tutto il mondo. La sua famiglia è a dir poco stramba, ma questo può essere un bene quando si desidera scrivere.